Townsend Community News June 2017, Bournemouth
Last Updated: Updated - Tuesday, 20th June 2017 // New - Monday, 12th June 2017
'Inspire' Holiday Club
The Summer Programme for the sports holiday club is based at Townsend Youth Centre, for children aged between 5-10 years old. The club will run between 8.45-9.15am (registration) - 4.00pm on the following days:
Tue 25 July, Thurs 27 July, Tues 1 August, Thurs 3 August, Tues 8 August, Thurs 10 August, Tue 22 August, Thurs 24 August, Tuesd 29 August
Daily fee of £7.50.
Townsend is Blooming Lovely...
The wild flowers and the bank at the end of Woodbury Avenue are looking gorgeous with wild flowers and shrubs.
Thank you to Dave Sheppard and co for all their efforts in creating these lovely areas.
FREE RNLI Swim Safe Lessons
This summer, Swim Safe offers FREE outdoor swimming and water safety sessions for children aged 7-14.
Public and school sessions are in 20 coastal and inland locations across the UK - locations at Boscombe and Sandbanks.
Book a session near you and help children stay safe when swimming outdoors.
Free and confidential money advice for Bournemouth Council Tenants
TMSTH Area Forum Meeting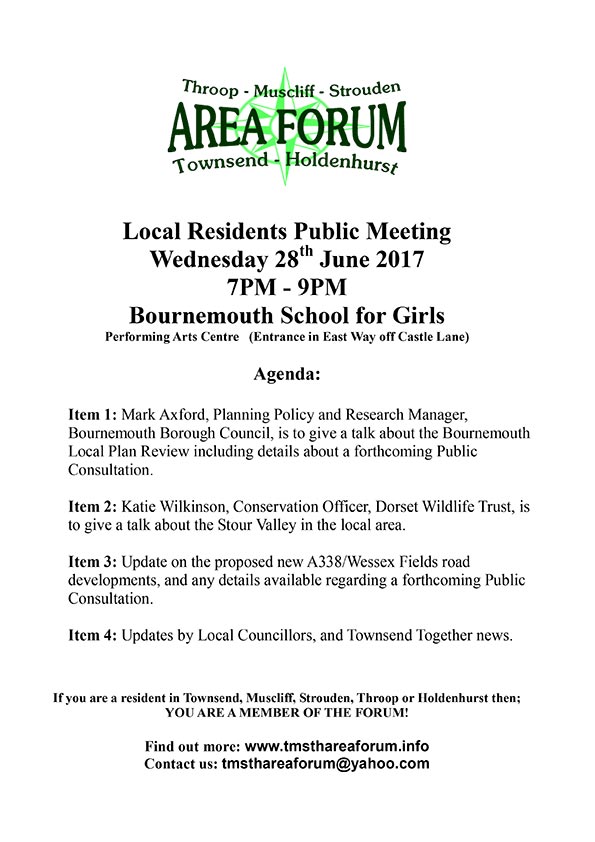 Community Fun Day
On Saturday 17 June, 1-4pm @ Lansdowne Church, Woodbury Avenue.
BBQ, live music, café, bouncy castle, soft play, stalls and games and much more!
Everyone welcome to attend...
Townsend Together Team
A reminder that the next 3Ts meeting (for organisations and resident representatives) is taking place on Thursday 22nd June, 2pm-3pm @ Townsend Youth Centre.
The Big Lunch
Thanks to everyone who came along to the Big Lunch at Townsend Community Centre.
For those of you who missed it, the old pictures and press releases of Townsend will be displayed again at the Street Party event on the 10 September.
Townsend Environmental Walk
Want to help make Townsend a nicer place to live, report issues for action? If so, please join us on our next walkabout taking place on Thursday 15 June, 11am-12noon, meeting at Townsend Community Centre.
Kinson Festival of Music
Saldes Farm Funday
Handy Van Service
East Boro's highly acclaimed Handy Van Repair Service provides practical help and support around the home, and there's no hefty labour charges either - you just pay for the materials used for the repairs. For all general maintenance and repairs, our Handy Van Repair Service is here to help.
If you own or rent a home in Bournemouth or Poole, are aged over 60, receive Pension Credit, Disability Allowance or other benefits then you can apply to use one or both of the services. So why not take the stress out of your domestic repairs and maintenance and leave it all to us.
For more information and to check you qualify, call us today on 01202 883 503 or email handyvan@ebht.org.uk
Townsend Street Party
Save the date: Townsend will be hosting its annual Street Party on Sunday 10 September, 2-6pm outside the Youth Centre / Community Centre.
Crowdfunding Campaign
Please support our crowdfunding campaign to help disadvantaged and SEN children access the arts this summer.
Check out our fantastic backer rewards here
We go LIVE for pledges on Monday 19th June!
Wimbledon at Charminster Library